Taransaud is proud to be the first cooperage boasting the label of 'Entreprise partenaire des Compagnons du Devoir et du Tour de France' (corporate partner of the Compagnons du Devoir et du Tour de France).
The Compagnons du Devoir et du Tour de France are an organisation dating back to the Middle-Ages and the constructions of the cathedrals. The idea was – and still is – for apprentices to travel around the country to hone their skills with different masters of their particular crafts culminating with the realisation of a Chef d'oeuvre before they were recognised as Masters of their craft by their peers.
The result of a several-year collaborative effort initiated in Beaune with the Apprentice Training Centre managed by the Compagnons du Devoir association, this label constitutes a genuine commitment to the ongoing hosting of young aspiring Compagnons for a year of their Tour de France.
This label fits into the training and knowledge-transfer policy implemented by Taransaud. It is also a tribute to the company's history, since Jean Taransaud, the son of the cooperage's founder, earned the title of Compagnon in 1981. In 2016, the cooperage also added a Compagnon du Devoir to its staff. The Compagnon Julien Tournade is now one of the two supervisors responsible for barrel production on the Merpins site.
In the great tradition of French craftsmanship, the Compagnons help young workers achieve their full potential through and within their trade, as part of a community where support, sharing and discovery through travel are essential values.
The shared values of Tonnellerie Taransaud and the Compagnons du Devoir thus led this partnership to be formalised on 3 May 2021 at the cooperage in the presence of the Compagnons' regional representatives. Taransaud is proud to be part of this multi-secular chain, continuing to transmit the know-how of coopering.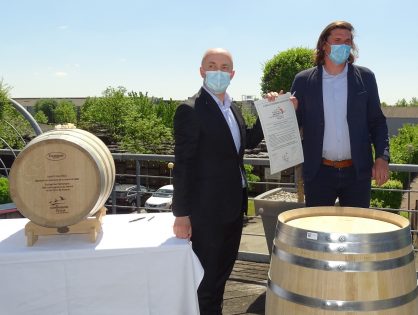 Nicolas Tiquet-Lavandier, Managing Director of Taransaud, and Jim Struzyk, Regional Representative of the Compagnons, proudly hold up the charter for the 'Entreprise Partenaire des Compagnons' label that they have just signed.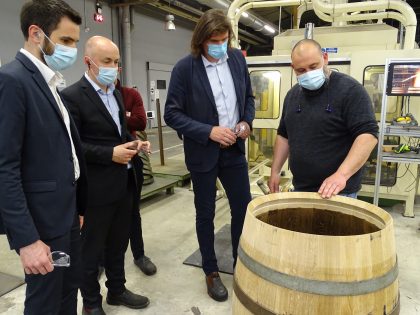 Julien Tournade, Compagnon du Devoir, supervisor in charge of the production of Taransaud barrels, enthusiastically explains his trade to the Compagnons representatives visiting the Taransaud workshops.