The Chêne Bois and Taransaud teams are proud of having participated in a reforestation campaign on 17 February 2020 in Mers-sur-Indre (Indre département), as part of Chêne Bois' sponsorship of the Plantons Pour L'Avenir (Planting for the future) French endowment fund, initiated in 2019.
Particularly meaningful from an environmental perspective, since its goals were to conserve and renew oak resources, this campaign also provided our teams with the opportunity to informally gather together and benefit from rich discussions with the landowner, Ms Alix Vaquier.
It was also an additional sign of our involvement in our local communities; indeed, Chêne Bois' oldest stave mill is located in the Indre département in La Châtre, where we have 11 employees.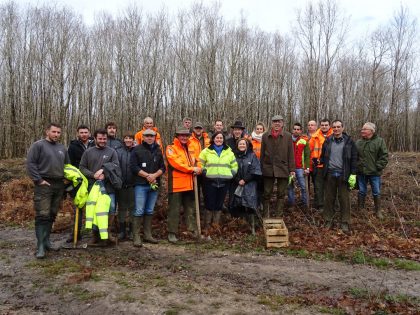 Our teams planting oak trees on 17 February in Mers-sur-Indre.